Pan & Rayon Differences
PAN (PolyAcrylNitrile) is lower in cost.

PAN has coarser fiber and larger fiber diameter = Lower Surface area.

PAN is stiffer and has an "ichier" feeling. Rayon is more flexable and less irritating to the skin

Rayon is lower in Thermal Conductivity than PAN at temperatures greater than 1800°C.
For heat treating applications, PAN carbon felt is the best price.
For handling ease and ultra high temperatures, Rayon is the best choice.
....
Discounts available!
High volume,

9 rolls or more!

High Purity processing, Heat treated up to 2600C & halogen purified.

Cut to Length

Less than a roll quantities are 25% more per square foot.

$100 minimum order for less than a roll.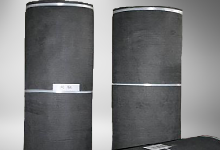 Applications
Soft Carbon and Graphite Felts are used as insulation in vacuum and protective atmosphere (non-oxidizing) furnaces and process equipment used in the heat treating, semi-conductor, ceramic, aerospace, defense, bio-medical appliance, and sintered metals industries. These felts are also used as a cathode in flow battery applications and as a reaction surface for many other electro-chemical processes. Common consumer and industrial consumable uses are as welding blankets, plumber pads, glass blowing pads, wicks in ultralight stoves, and automotive exhaust lining.